5 Ways to Sell Your Handmade Items
April 12, 2017
by Fatema Ali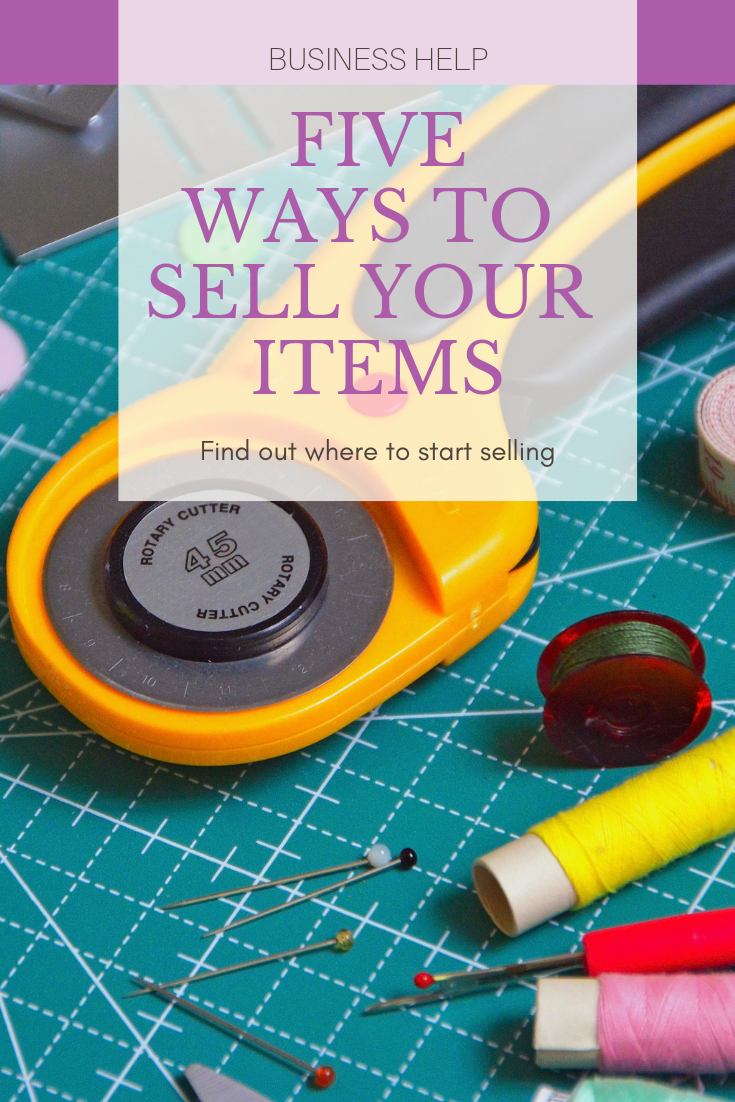 We looked at the "5 reasons to start sewing today" here. With regards to the second last point of additional income I thought I'd go more in depth.
Sewing for some is a full time job or business but even if it's just a hobby you can still earn some pretty good money.
Here are 10 ways to start selling your handmade items.

1) Friends & Family

This might seem like an easy way out but it's a good starting point and a great way to build confidence in your abilities as a sewist.
Friends and family will go out of there way to support you, which may not always be financially, but their opinions and thoughts really do count.
When starting out you might need a little guidance or a push in the right direction. Sometimes feedback from close ones, who care enough to tell you the truth, can help bring out your strengths and weaknesses.
You can also find out what kind of items people are interested in, what they need or want, and what price they are willing to pay for it. All this can help decide what the potential is and you may earn some pocket money too!
2) Online
Like me and you, it is researched that 99% off the UK population use the internet. This give you a huge potential of online customers.
With the help of popular third-party websites and easy website builders, the options are limitless.
Here are some sites for selling online:
Ebay
Known as an auction site but has since become a go-to for many people. It offers an easy way to buy and sell, with buy now options and shops. It has also started promotions, which is a great way to showcase your products and only pay once someone buys.
Fees: Final value, shop fee & listing fee
Amazon
Another third-party marketplace where many people choose to buy and sell. A slightly up-market audience, that are looking for great service. Many customers opt-in for prime, which can benefit you, if you send your items to FBA (Amazon fulfilment).
Fees: Final value and shop fee

Etsy
A specialised marketplace for buying and selling everything handmade, including tools and supplies. This is a great place to find buyers that you know will appreciate your handmade items.
Fees: Final value and listing fee.

You could start your own website. A lot of website builders are available without coding, which can help create a professional looking site. Here are some examples:
Create.net

Shopify

Mr Site

WIX

Squarespace
Although, building your own website might seem like fun, its a lot of hard work. With third-party marketplaces, you are essentially paying for your audience and potential customers. But with your own website, you need to be able to get customers to your website. Along with the monthly fees and possible payment fees, it can get expensive when you don't have any sales to show for it.
But with the right knowledge, tools and perseverance it is possible to make it successful.
3) Social Media
Along with selling in marketplaces, the potential for customers on social media is huge. Everyone wants to be part of a community and they want to get involved.
Creating business accounts on sites like facebook, twitter, instagram and pinterest can attract potential customers. You can also sell directly from some of these platforms, while making friends and building relationships with like-minded people.
Its incredibly useful for advertising and promoting niche products. If you have something special, something different to offer then social media can be a great way to spread the word. If you can come up with a viral message, it can go far and wide.
Being open to the public also gives you some credibility. They know that there is someone behind the scenes, someone like them, who they can relate to and contact if they need to.
4) Craft Fairs
Once you have a wide variety of items to offer your customers, you can try and hold a stall at a local craft fair. These fairs can be seasonal or permanent and are a great way to get yourself out there.
Stalls don't cost that much so your risk is low and you have an audience that can see and feel your items. This can give you an idea of what customers think, what they are interested in and what price points attract them to purchase.
There are also local fairs that take place in schools and workplaces, during peak times of the year. Its a great opportunity for your customers to purchase gifts for family and friends.
5) Collaboration
This may be something you could look into. There are a lot of businesses that are willing to showcase your items on their website or physical shop, on a commission basis.
Once your item sells, they pass on the agreed commission to you. They get a wider customer base, who may be interested in their items as well as yours. Its a win, win situation. You really don't have anything to loose!

I'm sure there are many other ways to get your lovely handmade items out there, but I hope this has opened your horizon and made you think of the possibilities.
Leave a comment
<!––'general.theme.tag' | t (replace this with titles)––>
Newsletter