Fat Quarter Baby Skirt Project
April 08, 2017
by Fatema Yousuf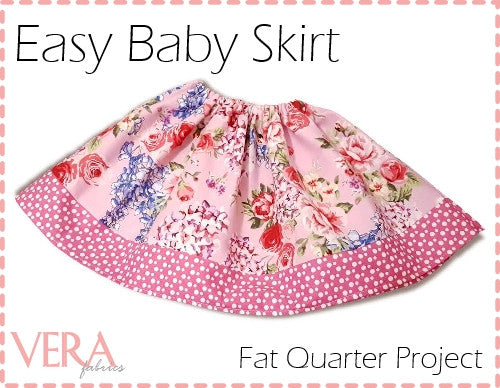 This is a great way to make use of your fat quarters and would make a pretty gift for a lovely little girl. Its simple and easy to make, so ideal for beginners. 
You'll need:
1 fat quarter for main panel - 18" x 21" (Portofino Roses by Gutermann)
21" x 5" border fabric (Portofino Polka Dots by Gutermann)
Elastic
Notions: Scissors or rotary cutter, pins, iron & bodkin.
Instructions:
1) Cut the fat quarter in half lengthwise to make 21" x 9" rectangles.
2) Cut the second fabric in half lengthwise to make 21" x 2.5" strips.
3) Take the strips and fold over one long edge 1/4" and 1/4" again, then stitch.
4) Place one strip right-on-right at the bottom of one rectangle panel and sew the two raw edges with 1/4" seam allowance. Repeat with other two pieces.
5) Align the two finished pieces right sides together and sew down the short sides.
6) Fold and iron 1/4" from the top raw edge, then fold and iron 1/2" to create a casing for the elastic. Sew all the way around, leaving a small gap.
7) Measure the child's waist and cut elastic 2/3rds of the circumference. 
8) Thread the elastic through the casing and tie the two ends. 
Options: you can alter the length by adding different panels and laces or use different fat quarters to make a patchwork skirt.
Leave a comment
<!––'general.theme.tag' | t (replace this with titles)––>
Newsletter